Published:

12th Nov 20

Tags:

Analytics, Conversion Rate Optimisation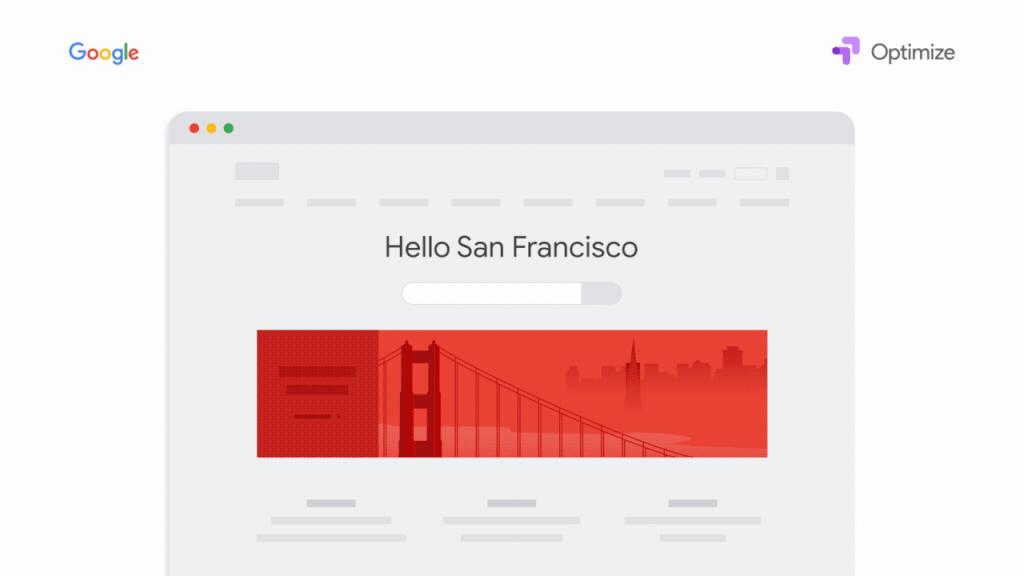 This time, it's personal…
A/B testing is one of the quickest ways of optimising conversion rates. A/B testing involves pitting two variations of online content (e.g. ad, landing page, video) against each other to work out which performs best.
Google Optimize offers A/B testing, website testing & personalisation tools – all in order to help with the delivery of engaging customer experiences, and boost website conversion rates. There are tonnes of A/B testing tools out there – but we'd recommend Google Optimize as a great place to start.
Why Google Optimize?
Google Ads Integrations – Optimise allows you to target users coming from a specific campaign, ad group or keyword. This allows for custom experiences for different users e.g. different messaging for Brand/Non-Brand traffic.
Google Analytics Integrations – Optimize natively integrates with other Google solutions, allowing for deeper reporting & time saving efficiencies. Native integration across Google is one of the most attractive qualities of the platform. Unfortunately there's no GA Audience targeting with the free version – but this is possible with Optimize 360.
It's Free! For small to medium sized enterprises, the free version should tick all the boxes – but if you've got a very advanced set-up, it's likely you'll need contact a Optimize 360 rep
What do You Need?
Google Optimize
Google Tag Manager
Google Analytics
Setting Up an Experiment
Create an Experience

Experience Types
A/B Testing – Tests two or more variants of a page
Multivariate Testing – Tests variants with two or more different sections
Redirect Test – Tests separate web pages identified by different URLs or paths
Personalization – Personalize your page for targeted visitors
Banner Template – Add a notification banner to the top of your website.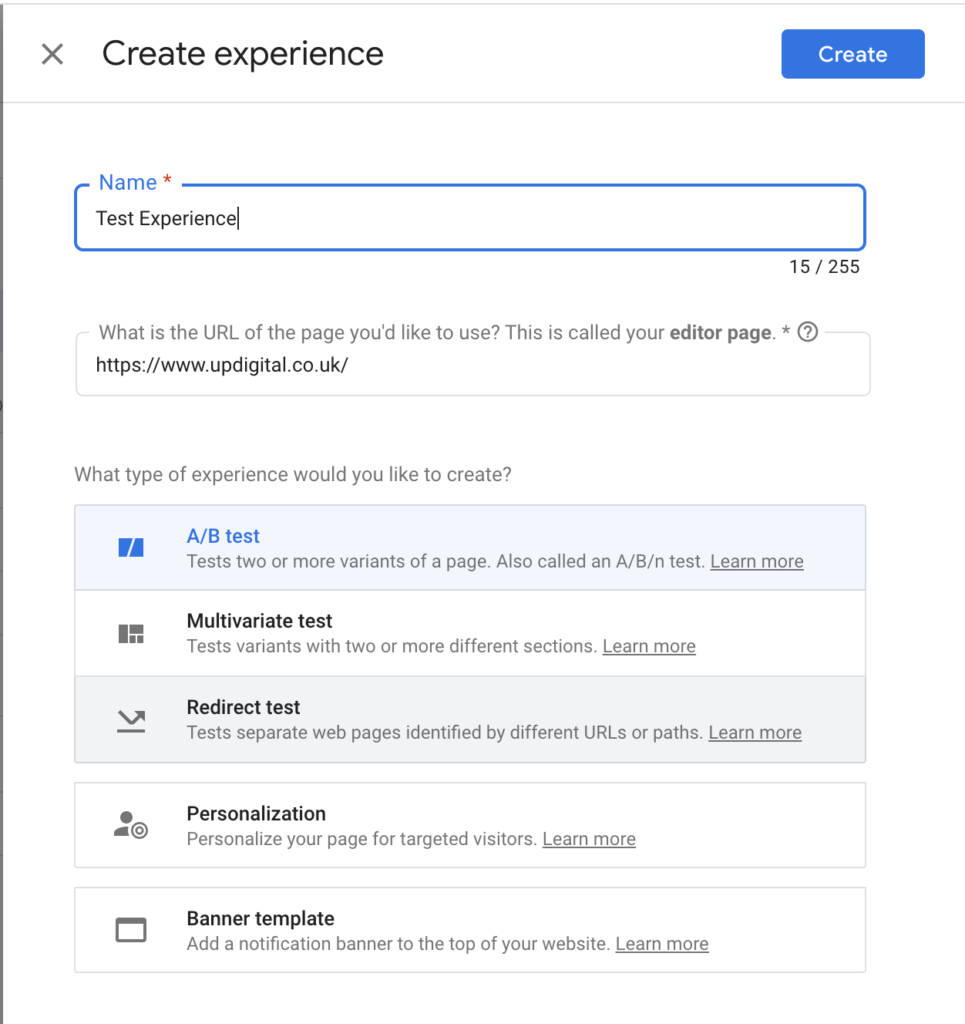 Choosing Your Rule Type
Google Ads – Target Google Ads accounts, campaigns, ad groups, and keywords
UTM Parameter – Target visitors based on the utm parameter
Device Category – Target visitors using on mobile, tablet, or desktop devices
Behaviour – Target new vs. returning visitors or those coming from specific referrers
Geography – Target visitors from a specific city, metro, region or county
Technology – Target visitors using a specific device, browser or OS
In our example, we're going to choose Behaviour – in order to tailor our messaging for returning users.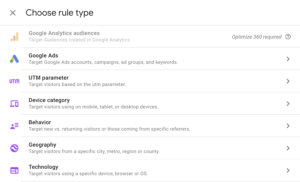 Example of Customised Experience
Advertisers are able to edit their page's content based on Behaviour e.g. for returning users.
This way, you can tailor user experiences – e.g. 'Welcome back' messaging for users who have visited your site before.
Advanced
Query Parameter – Target based on a query parameter in the URL
Data Layer Variable – Target based on key values stored in the data layer
JavaScript Variable – Target a JavaScript variable in the source code of the webpage
First Party Cookie – Target users that have a first-party cookie from your website
Custom JavaScript – Target pages based upon a value returned by custom JavaScript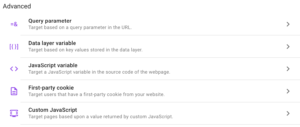 Example of Advanced Customised Experience
A host of information can be stored in the data layer – allowing for highly sophisticated customised user experiences. For example, custom messaging for signed in-users.
Very.co.uk are utilising this feature to have a personalised homepage message – using the signed-in customer's name (Nicky), as well as personalised weather data (e.g. wrap up, its cold out there):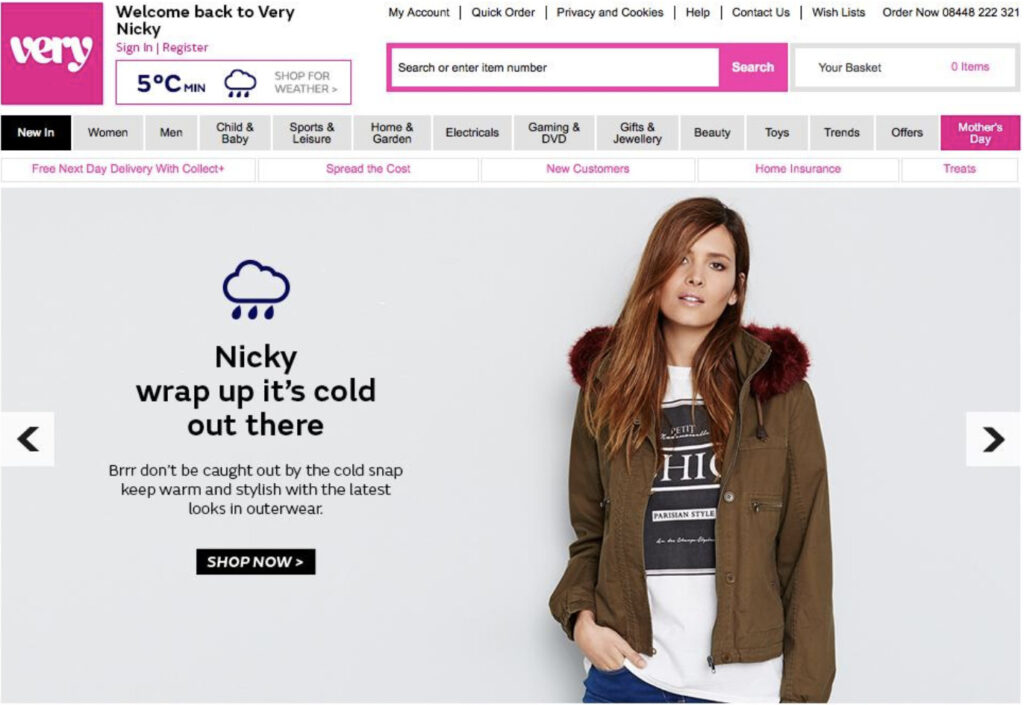 Summary
The seamless integration with other Google products (namely Google Analytics & Google Ads) and suite of optimisation/personalisation features makes for a powerful combination – and the fact the offering is free-to-use makes it even more attractive. As with all optimisation tools, it's important to focus on meaningful tests – determine which metrics are important to you, your goals, and how the changes you're making might affect user behavior.