Published:

5th Apr 22

Tags:

Google Search Ads, PPC, Search Marketing
With Google Search Ads, you pay to appear right in front of the users searching for your products and services; but there's one hidden setting that can significantly improve the cost efficiency of your campaigns.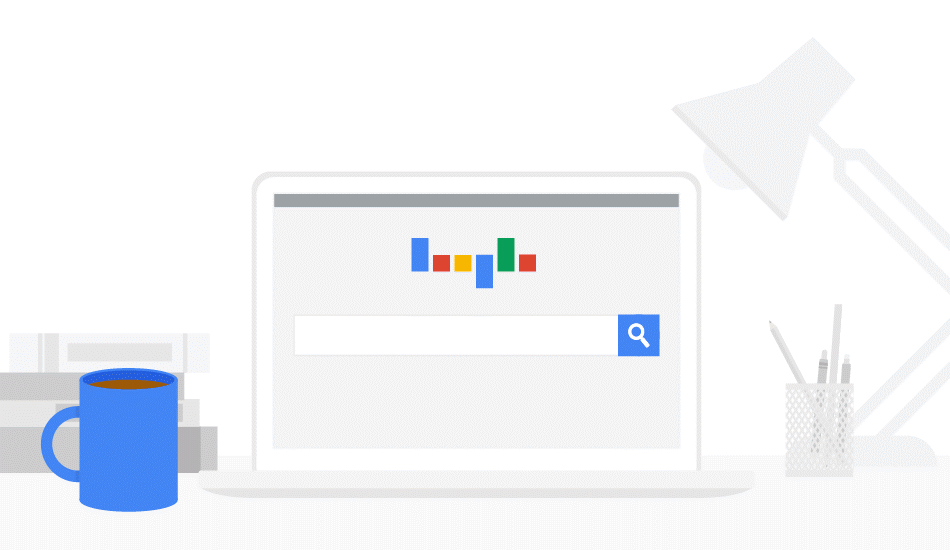 Over 3.5 billion Google searches are performed by consumers every day. Placing relevant Search Ads in front of the right users has proven to be a highly effective method of generating volumes of quality website traffic. This traffic leads to key conversions and contributes significantly to revenue.
Aside from the main SERP, Google offers an expanse of Display Network ad units across 3 million apps and websites. By default, Google will use the Display Network to share the ads that you've created for Google Search.
The Display Network provides an opportunity to place ads in front of an abundance of web users. However, it's advised that you keep your Search and Display ads separate.
Why Should You Disable The Display Network From Your Search Campaigns?
Optimising your ads based on how web-users will view them (i.e., Search vs Display) can improve click-through-rate. A higher CTR will subsequently boost quality score, and elevate campaign performance. See our Responsive Display Ad Guide here.
Separating Google Search and Display campaigns allows you to apportion bids and budgets based on the performance of each ad format. This will facilitate a greater return on investment.
Generally, Display ads deliver a lower ROI than Search ads – so if you're working with limited budgets, you can assign this spend solely to Search activity.
That being said, you should leave this setting enabled if you want to maximise reach without spending the time to optimise for the each channels.
How to Switch off the Display Network: Using Google Ad's Online Interface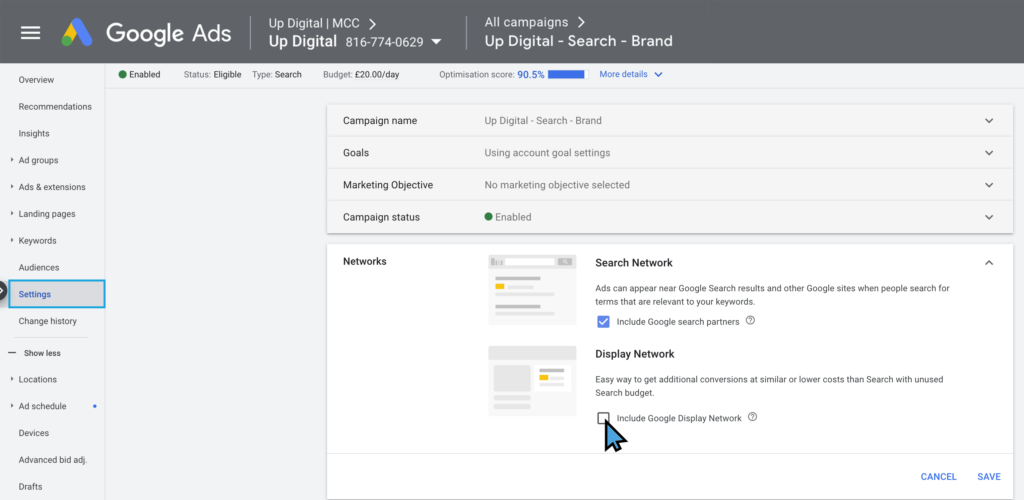 Open your account on Google Ads' online interface
Select the relevant Search Campaign
Click Settings in the left-hand navigation bar
Expand the 'Networks' option and deselect Google Display Network
Click save, and you're done!
How to Switch off the Display Network: Using Google Ads' Editor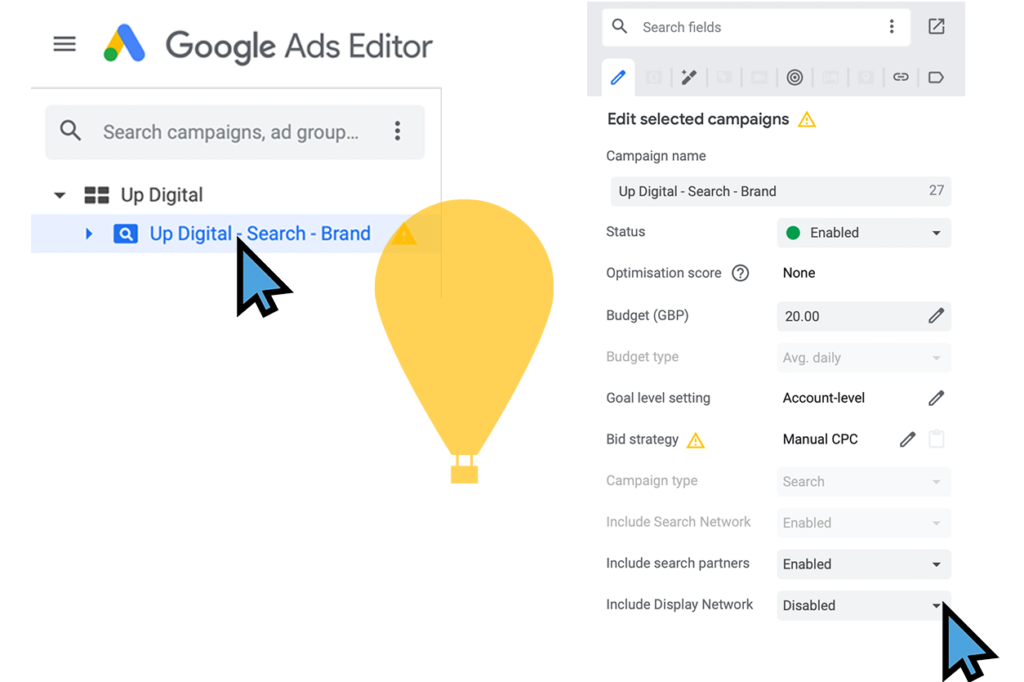 Open your account in Google Ads' Editor
Select the relevant Search Campaign in the menu on the left hand side
In the menu bar on the right-hand side, disable the 'Include Display Network' setting
Finally, click 'Post' to finalise your changes.
The Round Up
If you're looking to fine tune your PPC campaigns and optimise cost-efficiency, switching off the default Display Ads from your Search Campaigns can help cut out wasted spend.
However, Display can prove itself valuable for many businesses, so it's worth testing out both Display and Search ads in their own separate campaigns. This will allow you to create format-optimised ads, and enable more impactful decisions based on clearly segmented performance data.
On the other hand, if you don't have the time to spare and your goal is to reach as many users as possible, then leaving this default Display setting on may be best for you – but remember to segment by network when doing your analysis.